AnandTech: NVIDIA's Ion Platform: Bringing High Def to Netbooks
AnandTech did an informative article on NVIDIA's new "Ion" chipset/platform,
which is an ambitious foray into the netbook market. Out with the old, crappy,
desktop-inspired 945G chipsets used in today's Atom netbooks. Instead, Ion
is a two-chip solution that combines an Atom processor with a smoking GeForce
9400M GPU (the same graphics chip found in current MacBooks). The Ion
treatment makes any Atom netbook capable of playing H. 264 HD video,
something previously unfeasible with an archaic, piece-of-junk GMA 950.
And remember that the GF9400 is currently the only GPU capable of
such exotic HTPC ticks as 8-channel LPCM output.
Most interesting, though, is the size and scalability of Ion. Check out
NVIDIA's cute little reference box: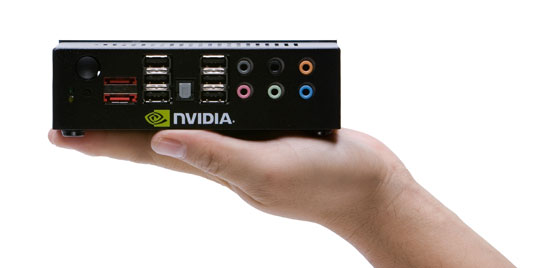 Amazing, huh? It is (literally) small enough to put in your pocket. Not to mention that this imparts a whole new meaning on "Home-Theater-in-a-Box"!