Bargain-basement PCs are all the rage, something especially true given the pitiful state of the economy these days. From the likes of all the major OEMs – Dell, HP, Lenovo, Acer, for example – cheap machines can be had for a couple hundred or more after rebate. Even for the price, however, the hardware you get is simply abysmal. Media center/HTPC duties are simply out of the question. So what's a cheap (or penny-pinching) person to do? Build your own, of course. And that is exactly what I did. Check out the specs and prices listed below (all parts came from Newegg):
| | | |
| --- | --- | --- |
| Case + PSU | Rosewill R103A ATX Mid-tower w/ 350W PSU | $34.99 |
| CPU | AMD Athlon X2 4850e | $57.00 |
| Motherboard | Gigabyte MA78GM-S2HP AMD 780G mATX | $69.99 (AR) |
| Video card | ATI Radeon HD 3200 (integrated) | --- |
| Memory | Corsair XMS2 2x1GB DDR2-800 | $9.99 (AR) |
| Hard Drive | Seagate Barracuda 7200.10 250GB SATA 3.0GB/s | $49.99 |
| Optical Drive | LG GH20NS15 | $22.99 |
| TV Tuner | Hauppauge HVR-2250 Dual ATSC/QAM | $109.99 |
|   |   | Total: $354.94 |
|   |   | *AR = after rebate |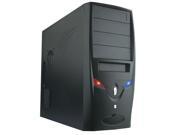 There you go: a hard-hitting HTPC build for just over $350! Thanks to the excellent onboard GPU of the AMD 780G chipset, decoding for H.264 and VC-1 video is handled in hardware, drastically reducing CPU load. The dual tuners of the HVR-2250 can be leveraged to watch/record 2 HD shows at once and work great in Windows Vista Media Center (especially the TV Pack.) Gigabyte has done an excellent job on this low-cost, high-quality motherboard – a rear eSATA port can handle future storage needs. Overall, this is a system that has more than adequate power for running Vista, and Windows 7 later on.
The above system has been running 24/7 now for quite some time with full stability. The AMD 4850e CPU is actually overclocked slightly to 2.8GHz from its stock 2.5. The motherboard's BIOS offers a subset of tweaking options usually seen on much higher-end boards.
Surely, you could not find anything with similar specs in a big-box store. It seems that the OEMs reserve TV tuner cards for much more expensive models in the >$800 range.